A Visit to Life:
24 Flashes
book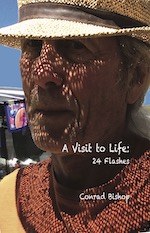 micro-fictions
A melange of micro-fictions. Haiku novels. Flash epics.
A fledgling Boy Scout is jammed in mud. A woman, two strikes down, opens the door to new love. A stairway goes up and up and up. Howdy Doody is roasted on a griddle. An elderly couple become famous for no reason whatsoever. A small child boards a toy train.
A Visit to Life is a mix of comic and grim, a surreal soup in the kitchen sink, a speedway of speed bumps. Like life.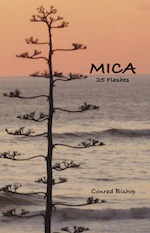 more micro-fictions
A diverse melange of micro-fictions, from one page to four each. Lives in miniature. Flash novels.
A prof spots William Blake at Starbucks. A mom faces down the IRS. A man sees his brother attain stardom. A retiree visits Hell, while a girl becomes a goddess. An atheist Jew is buried beside the Three Stooges, and tiny men in derbies float down.
Mica is a mix of heavy and light, comic and grim, the surreal sprouting up from the kitchen sink, a highway of hairpin turns on the street where you live. It all comes in a mix, like life.
Flashes & Floaters:
14 Fictions
book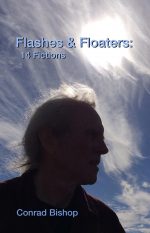 a clutch of micro-fictions
A diverse melange of micro-fictions, from 480 to 950 words each. Lives in miniature. Bonsai novels.
A man wins his dream vacation to Omaha, a woman dies, a child drives a maniac bus, a student pushes the limits of algebra, old women play checkers, it rains for forty days, and the swallows nest in the chimney.
Flashes & Floaters is a mix of the serious and the farcical, the surreal and the real, a series of skidding U-turns within the familiar drive—and like most days, it all comes in a mix.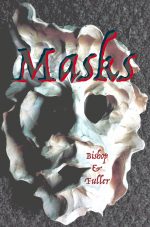 a historical fantasy
At the behest of his patron, a medieval scribe narrates his journey as an inquisitive, puzzled six-year-old on tour with his family troupe of players.
Performing their farces across a landscape of war, plague, religious strife and feral cats, they transport a hamper of curse-bearing masks that intrude into the boy's dreams and the troupe's reality, culminating in a Nordic Armageddon.
It's about the millennial tradition of backstage life, making sense of the fears that provoke self-destruction while improvising the strategies of survival and getting a laugh.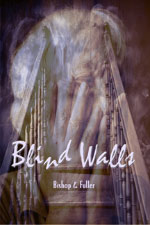 a novel of blue-collar ghosts
It's a monstrous maze of a mansion, built by a grief-ridden heiress. A tour guide, about to retire, has given his spiel for so many years that he's gone blind. On this last tour, he's slammed with second sight. He sees the ghosts he's always felt were there: the bedeviled heiress, her servants, and a young carpenter who lands his dream job only to become a lifelong slave to her obsession. The workman's wife struggles to make it to shore, but he's cast adrift. And the tour guide comes home to his cat.
(Read reviews here)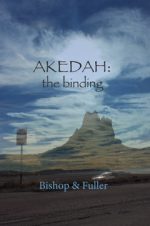 a novel of promises broken or kept
A casual barstool conversation with a mystery man— perhaps a Las Vegas bigwig, perhaps a sociopath— hooks chronic loser Vern McGurren on the deal of a lifetime, spurring a road trip from Chico CA, across Yosemite and Death Valley to the monumental stone outcrop of New Mexico's Shiprock. It's a shot at bridging the gap between a desperate father, a suicidal son, and an exiled firstborn who know each other only too well, while leaving the gritty mother behind to grapple with dread. But they veer into an hallucinatory replay of the mythic Abram/Isaac sacrifice.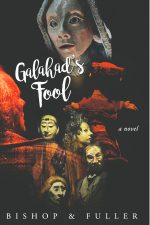 a realistic fantasy by Conrad Bishop & Elizabeth Fuller
A year after his co-creator Lainie's death, an acerbic veteran puppeteer struggles to build a solo show. But what Albert Fisher intends as a lightweight spoof turns sharply personal, and he births a raw myth of loss. His aging, pot-bellied Galahad, bereft of youthful vision, launches a second mad quest for the Holy Grail. To follow, his wife secretly disguises herself as their frail, androgynous Fool. As the show evolves, Albert finds kinship with his grieving hero and opens to the risk of new love.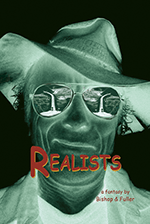 a singular comic novel of dystopian optimism
by Conrad Bishop & Elizabeth Fuller
In the near future, insane politicos reign and dreams are taboo. A motley band of innocents, targeted as terrorists, plunge to certain death, but by a stroke of lunatic physics plop onto Smoky's ramshackle westbound tour bus, pursued by an empire gone loco.
Amid ghost buffalo and disappearing cities, improbable lovers split and rejoin, children find magic, and a ragtag bunch of loners and seekers bond into a tribe of survivors, weaving a new reality with magic as the warp, love as the woof.
Elizabeth:
One of Many
book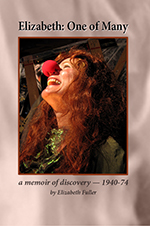 a memoir of discovery—1940-74
This memoir, the first of three, follows one woman's journey through the roles of child prodigy, trapped teen, college dropout, radiant bride, theatre-maker, and mother. It's about discovery—a roller-coaster process of becoming herself, and she's still evolving.
Elizabeth Fuller has lived her life making theatre, from Off-Broadway to state prisons and church basements. She has composed more than 50 theatre scores and with her mate Conrad Bishop has written dozens of produced plays and eight novels. Besides playing roles ranging from Lady Macbeth to Lear's Fool, she has engineered for public radio, built stud walls, done full-charge accounting, and mothered two children.
Co-Creation:
Fifty Years in the Making
book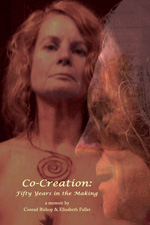 a memoir by Conrad Bishop & Elizabeth Fuller
In the course of their fifty years of marriage, Bishop & Fuller have collaborated as performers, playwrights, producers and puppeteers in bringing hundreds of stories to thousands of audiences. Now they tackle their own story— a chronicle of play-making, parenting, uprootings, successes and failures, polyamory, spiritual quests, strict accounting practices, dancing naked around bonfires, and perpetual improvisation. (Read excerpts and see photos here)
Seven Fabulist Comedies
book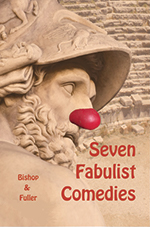 Three plays based on classic commedia dell'arte, two solo shows, one urban fantasy, and a surreal black comedy. All produced with success. All crazy, all real.
Comedying
Marvels
The Green Bird
Tapdancer
Le Cabaret de Camille
Dream House
The Shadow Saver
Rash Acts:
35 Snapshots for the Stage
book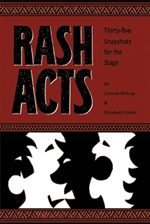 A new, expanded edition of unique comedies, nightmares, and quirky dramatic portraits drawn from 45 years of touring by two of America's landmark theatre ensembles. They have also been produced by numerous schools, colleges, and theatres throughout the US.
This work has a cabaret spontaneity and ferocity combining laughter, insight and shock that should penetrate the protective shield of any audience. Rash Acts' innovative style and use of language carve out new territory for the American short play.

—Jon Jory, Humana Festival, Actors Theatre of Louisville
Mythic Plays:
from Inanna to Frankenstein
book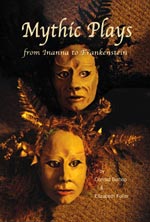 Spanning five thousand years of human experience, Mythic Plays includes four dramas evolved from collaboration with American theatres by playwrights Conrad Bishop and Elizabeth Fuller and The Independent Eye.  From Greek myth (Medea/Sacrament), Norse saga (Ragnarok: Doom of the Gods), Sumerian archetype (Descent of the Goddess Inanna) and Mary Shelley's "Modern Prometheus," Frankenstein, these plays offer highly readable models for a synthesis of poetry, visual theatre, and the immediate reality of myth.
Seismic Stages:
Five Plays for Teens
book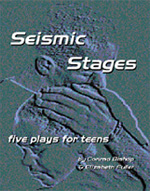 Three one-acts, including A Friend from High School, Get Happy, and Success, plus Family Snapshots and Dividing Lines, a medley of 30 micro-plays.
These pieces for the stage range from the comic pathos of a widower bedeviled by telemarketers, to the stark confession of a man who has murdered a young boy, to the farcical warfare between four sets of apartment-dwellers, and more. Seismic Stages is highly recommended for school and community theatrical collections and is enhanced with prefaces revealing how the individual pieces were engendered and suggestions for staging them.

—Bookwatch, The Midwest Book Review